Traditions are never old and irrelevant. While we need to understand and appreciate the importance of our Chinese heritage, we also have to acknowledge our shared heritage of the Nanyang, which embraces a fusion of different cultures in the heart of Southeast Asia.
Dance Ensemble Singapore Arts Company (DES Arts) is recognized to be the anchor of Singapore's Contemporary Chinese Dance; while maintaining a strong foundation of traditional Chinese Dance philosophy under the guidance of Mdm Yan Choong Lian (Founder).
| | |
| --- | --- |
| Course Details – 2016 课程内容 | Join US! (DES Friend) 聚舞坊之友 |
| | |
Please kindly submit your applications and cheque payment to the following address: 60, Waterloo Street, Singapore 187957 (Dance Ensemble Singapore Ltd)
With the passion of being a professional dance company that is representative of Singapore and the local arts scene. We aspire to commit to the following guiding principles:
(1) To reflect our cultural identity through dance
As a dance company that aims to preserve our heritage and promote Chinese culture, DES Arts will continue to develop our distinctive identity in the local arts scene with our diverse performing styles incorporating the fluidity of Chinese classical dance with the swift dynamism of the Wushu technique.
(2) To be a professional Chinese dance company that is representative of Singapore and its people
By redefining Chinese dance to reflect the cosmopolitan identity that is Singapore, we will continue to push past the frontiers of Singapore's arts scene with our own unique brand of Chinese contemporary dance that is modern yet exuding the splendor of our rich heritage.
(3) To uplift our local artistic standard
We will nurture multi-talented performing artists of international caliber to invigorate the local arts scene with fresh talent as well as collaborate with internationally-renowned choreographers and dance organizations to inject refreshing perspectives into our works.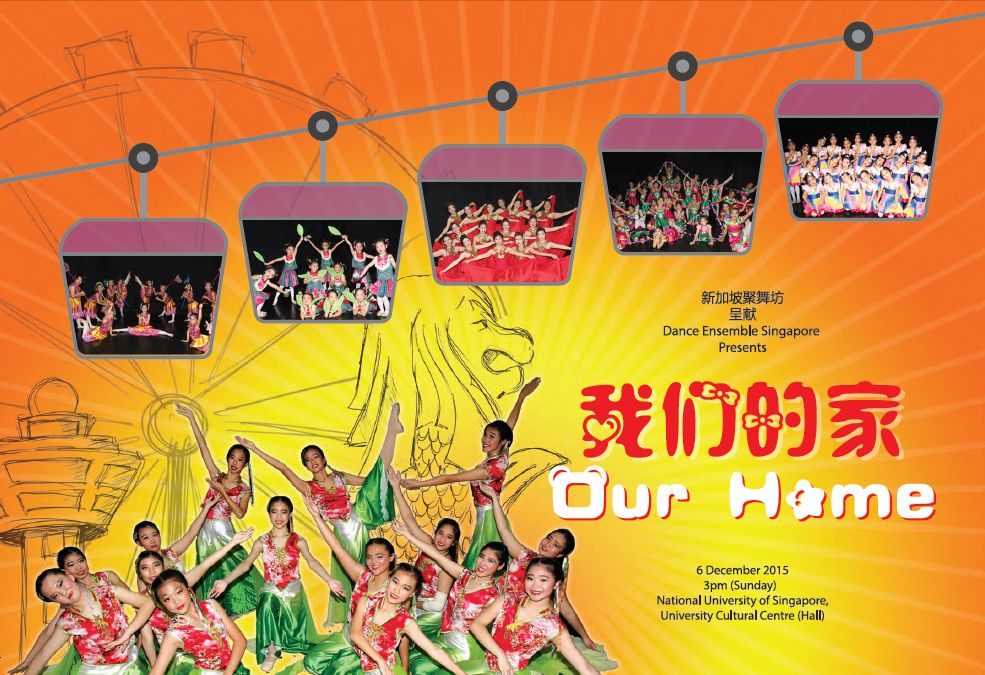 聚舞坊年终舞蹈,武术 汇演 "家"是由聚舞坊400名学员联合呈献。为配合新加坡建国50周年,以华族文化舞蹈武术为基础编创出具本地色彩的艺术大汇演。 Mobilizing 400 dancers from DES Arts School Academy, Dance Ensemble Singapore is proud to present "Home" – a dance performance showcasing varied types of dance, ranging from Chinese classical Dance to our Straits-born culture that speaks of the origins of our heritage. 日期: 12月6日 时间: 3 点 价钱: $50, $40, $30 地点:... read more
60 Waterloo St Singapore 187957
Major Grant Applicant
Download
[Annual Reports]
AEP Programme
[Traditions In Fusion]
[AEP Booking Form]
Admin Assistant:
Roles and Responsibilities
To be assist with the organisational administration.
Terms and conditions:
PRs and Malaysians are can also apply
Part –time
Mon- Fri 1pm- 6pm
Other benefits apply
If you are interested please do not hesitate to contact DES at 63347192 or please e mail your resume or write in to desarts@des.org.sg